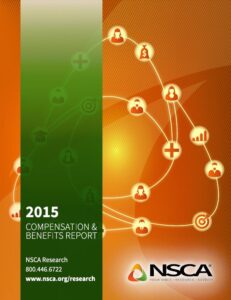 Compensation, bonuses, and benefits aren't everything – especially to Millennials, as we're discovering – but what you offer to employees in these areas can make a big impact on attracting and retaining top talent.
Setting salaries for staff is always a tricky task. You want to pay enough to get the best possible talent, but you don't want to pay too much. Salary decisions may be more straightforward for employees who work on commission, but what about administrative and support staff? Compensation and benefits data exists about these positions, but it's not collected from our industry. For the most accurate assessment possible, it's most helpful to compare compensation and benefits among companies that conduct similar work, are in your geographic region, and have a comparable number of employees.
NSCA offers a resource that helps you discover where you stand: our Compensation & Benefits Report. Now in its fifth iteration, the report was updated in 2015. It tracks and benchmarks compensation and benefits data for a variety of key positions within our industry, including technical and administrative roles.
Systems integration firms of all sizes participated in a survey that gathered information on company background, staffing levels, employee benefits, compensation, bonuses, and sales forces. The survey data was then used to develop the 2015 Compensation & Benefits Report.
This report reveals what other integrators in your area offer to their employees so you can compare. Do you pay too much? Too little? Just right?
If you determine that your firm's compensation and benefits aren't what they should be for certain positions – but aren't in a position to fix it just yet – there are other valuable perks you can provide. Employees are often drawn to non-financial rewards as well: flexible hours, casual dress codes, more vacation time, a telecommuting option, catered lunches, etc.
If you have any questions about this report, or are looking for advice on how to use the data to reshape your compensation plans, contact NSCA Executive Director Chuck Wilson at cwilson@nsca.org