Any manufacturer that produces low-voltage products for installation by integrators in the commercial space is eligible to apply for this award.  Industry manufacturers may nominate their own products; integrators may also submit nominations for products that have had a significant effect on installations.
One winner will be named in each of the following categories, along with one overall Grand Prize Winner:
Ease of Customization: products that excel at interoperability and allow integrators to add value with custom solutions
New Revenue Potential: products that offer ways for integrators to add value through new offerings
Recurring Revenue Potential: solutions that make it easier for integrators to expand their managed services offerings
Retrofit/Installer-Friendly: products that reduce installation time and secure profit margins
Technology Platform: platforms for manufacturers to build from and push the industry forward
Trail-Blazing Innovation: products that symbolize bold research and development to reshape our industry
Additional considerations were made during the judging process in regard to how the products impact user experience (i.e. scalability, versatility, deployment cost, ease of use, ROI, ADA compliance, energy efficiency, etc.) The judging panel included NSCA's director of business resources, the editor of Commercial Integrator, and a panel of integrators from across North America.
Take advantage of early-bird pricing! Save $100 per entry by submitting payment by the end of the day on Dec. 8, 2023. Entries are being accepted through January 12, 2024. Winners will be announced at NSCA's annual Business & Leadership Conference (February 27-29, 2024) in Irving, TX.!
NSCA's Excellence in Business awards honor systems integration firms and their efforts to implement new strategies to navigate the constantly changing industry. We identify integration firms that understand the importance of innovative, forward-thinking ideas.
With a strong pulse on the industry, NSCA will select one winner from each of these categories based upon careful examination of notable performance and advanced strategies being used:
Business Performance: establishing methods for accurate job costing, new ways to trim operating expenses, etc.)
Customer Experience: increasing customer satisfaction scores or repeat business, etc.
Differentiating Strategies: implementing new sales strategies, growth strategies, etc.
Employee Engagement: corporate culture exercises, increasing job satisfaction, etc.
Strategic Transformation: entering new markets, increasing RMR, etc.
Talent Development: cross-training, onboarding, recruiting, career development, etc.
Winners will be recognized at the Business & Leadership Conference and will also be featured in NSCA newsletters, press releases, e-mails, and magazine articles.
Applications will be accepted until January 19, 2024. Winners will be notified by February 2, 2024. No cost to apply.
The NSCA Education Foundation is now accepting applications for the Randy Vaughan Founder's Award. These awards, in honor of Vaughan's commitment to the systems integration community, are given to qualified applicants of systems integration companies interested in attending the Business & Leadership Conference (BLC) for the first time. They allow awardees to attend BLC and have their registration fees waived. The conference is attended by seasoned as well as up-and-coming industry managers, owners, and executives.
Twenty-five (25) awards will be given for the 2024 conference to be held Feb. 27-29, 2024, in Irving, TX.
This honor represents the NSCA Education Foundation's mission to provide ongoing training to current system integration professionals.
Randy Vaughan was a charter member of NSCA, and served on the NSCA Board of Directors from 1997-2008, including a two-year term as president beginning in 2005. Additionally, he served as an instructor for NSCA University™ for more than 12 years, and was named its Educator of the Year in 2007. He also served as chairman of the NSCA Education Committee for a number of years. His greatest accomplishments for NSCA include the creation of NSCA University and the Business & Leadership Conference, as well as his role as a subject matter expert and content developer for the industry.
Applications are due by Dec. 15, 2023. Winners will be notified by Jan. 7, 2024. For more information , or to apply, contact Teresa Solorio at tsolorio@nsca.org or 800.446.6722.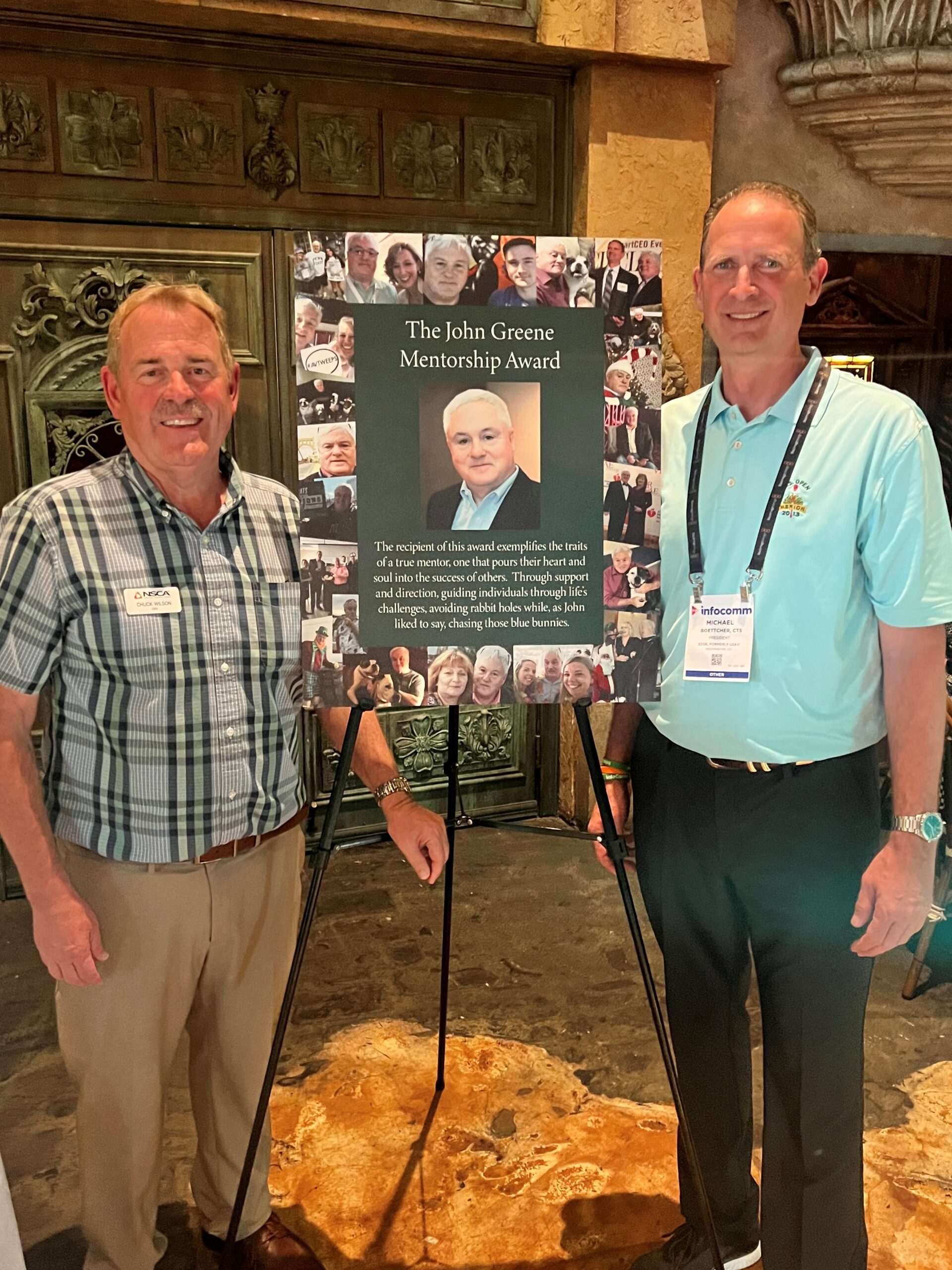 John Greene had many enduring impacts on our industry. One of his great passions was helping young integration industry professionals succeed. He was a mentor and friend to so many of us.  The John Greene Mentorship Award is designed to help others carry on his tradition. Although nobody can replicate John's dedication and charisma, we can pay it forward by mentoring others.
The John Greene Mentorship Award will be given at the 2024 Business & Leadership Conference to one individual who demonstrates a commitment to mentorship that would make John proud.
Complete the application below by Nov. 17, 2023. Winner will be notified by Dec. 20, 2023. Travel and accommodation expenses will be the responsibility of the award winner.
For more information, contact Teresa Solorio at tsolorio@nsca.org.
Optimizing every area of your business!
"As a first-year attendee, BLC energized me to do more and inspired me with new ideas and approaches...I was motivated on a personal level as well as educated on business and issues relevant to my workflow and challenges." - Susan Lucci, New Era Technology