The "Cheers to 20 Years" anniversary celebration and fundraiser, which took place Dec. 3, far exceeded its $54,000 goal by raising $73,115 for the NSCA Education Foundation.
CEDAR RAPIDS, IA, Dec. 7, 2020 – The NSCA Education Foundation is excited to announce that its first-ever virtual fundraiser, "Cheers to 20 Years," which recognized its 20th anniversary and sought to raise funds to support its ongoing industry initiatives, exceeded its financial goals.
The stated goal was for the NSCA Education Foundation to raise $54,000. When the virtual event closed at 6:00pm CST on Dec. 3, the fundraiser tally was $73,115.
"The Foundation Fundraiser was a huge success, and we are so grateful to all who contributed," says NSCA Executive Director Chuck Wilson. "Like our members, we continue to improvise to create our own success. This virtual fundraiser is a testament to our sponsors and their commitment to our channel, the strength of our community, and the generosity of our friends even in the most unusual and difficult times. We had to pivot, and our membership rallied around us!"
Learn more about the work of the NSCA Education Foundation:
"Cheers to 20 Years" By the Numbers
The virtual fundraiser event, led by emcee and host Tim Albright, founder of AVNation, included streaming musical acts, featuring one from renowned industry band and longtime NSCA Education Foundation fundraiser The Drunk Unkles. Live and silent auctions saw the NSCA community bidding on technology and lifestyle items donated by industry manufacturers and individuals.
All bids and donations are appreciated by the NSCA Education Foundation. Here are some of the highlights en route to raising $73,115:
Top 10 Bid Items
Rolling Stones autographed Ernie Ball Music Man collection guitar (live auction item): $12,500
Rauland Technical Training Vouchers: $11,300 total
Cedar Ridge Bourbon Basket: $3,040
Panasonic PT-VMZ50U 3LCD Portable Laser Projector: $800
Barco Clickshare CS-100 wireless system: $700
Three Supervox Case Studies: $630
Barco Clickshare CS-100 wireless system: $600
Vaddio HuddleSHOT All-in-One Conferencing Camera: $540
Crestron UC Video Conference Smart Soundbar & Camera: $490
Milwaukee M18 18-Volt Lithium-Ion Cordless Combo Kit (5-Tool) with Titanium Drill Bit Set (23-Piece): $425
Integration Industry Steps Up
In many ways, 2020 has been about stepping up. In fact, the theme for NSCA's 23rd annual Business & Leadership Conference is "Stepping Up When It Counts." The industry most definitely stepped up to help the NSCA Education Foundation, which cancelled three planned fundraising events in 2020, continue its important work.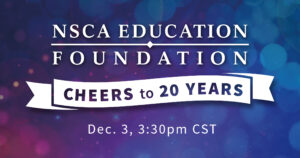 "The NSCA Education Foundation is thrilled to have raised $73,115 to help continue our efforts to fuel our industry with education, resources, leadership development, and amazing programs like Ignite and PASS," says NSCA Education Foundation Board President Laurie Englert. "Thank you for your support. We know these times are challenging, but we will get through it together."
The sponsors of NSCA Education Foundation's "Cheers to 20 Years" event include Platinum sponsor Synnex, plus: Almo, AtlasIED, AV Design Group, AXIS Communications, Belden, Biamp, Bose, BrightSign, Cedar Ridge Distillery, ClearTech, Cleerline Technology Group, Crestron, domotz, Electronic Contracting Company, FSR, GreatAmerica, Harman, Herman Pro AV, Legrand, Liberty AV Solutions, Navigate, Premier Mounts, QSC, Rauland/Ametek, Roland, Sennheiser, Sharp/NEC, Shure, Solutions360, Supervox, SurgeX, TrueNorth, USAV, West Penn Wire, Windy City Wire, and Xilica.
About NSCA Education Foundation
The mission of the NSCA Education Foundation is to advance educational opportunities by providing scholarships and awards to assist existing professionals and those pursuing careers within the low-voltage electronic systems integration industry. The foundation is committed to the growth of the industry by providing access to the best education and latest techniques available. The NSCA Education Foundation, a 501(c)(3) charitable organization, promotes and engages current and future electronic systems integrators in educational experiences to enhance the growth, professionalism and business skills needed in the electronic systems industry. For more information, visit www.nsca.org/nsca-education-foundation.
###