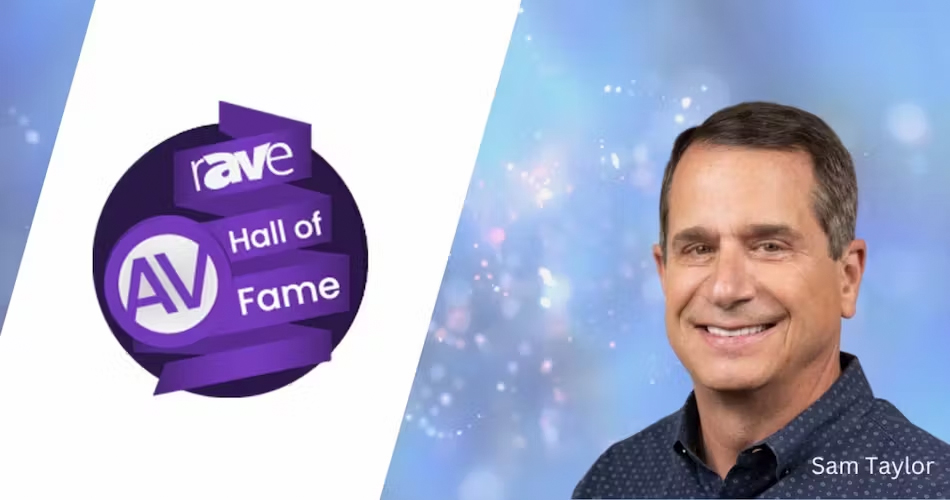 Pro AV Distribution Icon Retires from Exertis Almo; Forms "Swim With Purpose" Charitable Fund to Restore Kentucky State University Swimming Facility
Philadelphia, PA — Newly retired Pro AV distribution icon Sam Taylor, who is the outgoing Executive Vice President and Chief Operating Officer (EVP/COO) of Exertis Almo, the largest and most specialized value-added North American distributor, has been named a 2023 rAVe Hall of Fame Inductee.
An avid swimmer/swim coach with a desire to give back, Taylor has formed "Swim With Purpose" a charitable fund with the goal of raising $1M to rejuvenate a community by bringing back a swimming facility to Kentucky State University (KSU) students and YMCA members in the local area.
"I can't think of a more appropriate send-off for Sam than as a Hall of Fame inductee," said Warren Chaiken, president and CEO, Almo Corporation. "Sam has done so much to move distribution forward in AV. His work in creating a value-added model has made the vital role of distribution a more profitable and valuable pathway for both manufactures and integrators alike." Chaiken continued, "A mentor and friend to all who know him, Sam's legacy will continue with the solid distribution foundation he set in place. We look forward to seeing what Sam will achieve in his next endeavor, giving back to his other passion, swimming."
"I'm humbled to have the honor of being named a rAVe Hall of Fame inductee among the likes of many industry role models, such as Mackey Barron, Randy Vaughn, and Adele De Berri," said Sam Taylor, outgoing EVP/COO, Exertis Almo. "There's never been a better time to be part of the Pro AV community, which is filled with exciting career opportunities where you can make a difference. I am thankful for the loyal and dedicated folks who worked with me at both Almo and Electrograph. Also, I am grateful to our vendors who believed in our vision of value-added distribution."
As Executive Vice President and COO for Exertis Almo, Taylor led more than 250 employees and achieved annual revenues of approximately $1B. Prior to Exertis Almo, Taylor founded Almo Professional A/V, which was formed in 2009 and quickly grew to become the largest Pro AV distributor in the industry with global reach. He was also President of Electrograph Systems and has held various other sales, engineering, technical and management positions in the Pro AV industry.
Taylor is a pioneer of the value-added distribution model, having built the first AVIXA-trained outbound distribution sales team, the first Business Development Management (BDM) team for technical and expert support, as well as the first set of AV Managed Services to create a path for resellers to expand their reach and earn recurring revenue. Taylor forged relationships with many manufacturers who never considered distribution but chose it because of this model. He also led the charge as the first to offer free, high-quality education worth AVIXA CTS-renewal units as part of the E4 Experience, Exertis Almo's traveling reseller/integrator education, networking and product showcase.
About Exertis Almo
Exertis Almo is the largest value-added North American Professional AV distributor offering its reseller partners the most expansive range of products, managed services, technical support and training to drive business growth and generate profits. Formed in 2022 following Exertis' acquisition of Almo Corporation, Exertis Almo harnesses the combined sales, service, marketing and subject matter expertise of Almo Professional A/V and Exertis Pro AV to deliver customized business development strategies, programs and educational events that enable partners to thrive. With a highly-accomplished joint leadership team, more than 300 employees, 12 distribution facilities, and 2.7 million square feet of warehousing space, Exertis Almo provides the specialization and resources its partners need while maintaining the personal distribution approach they expect. For more information about Exertis Almo, go to www.exertisalmo.com.