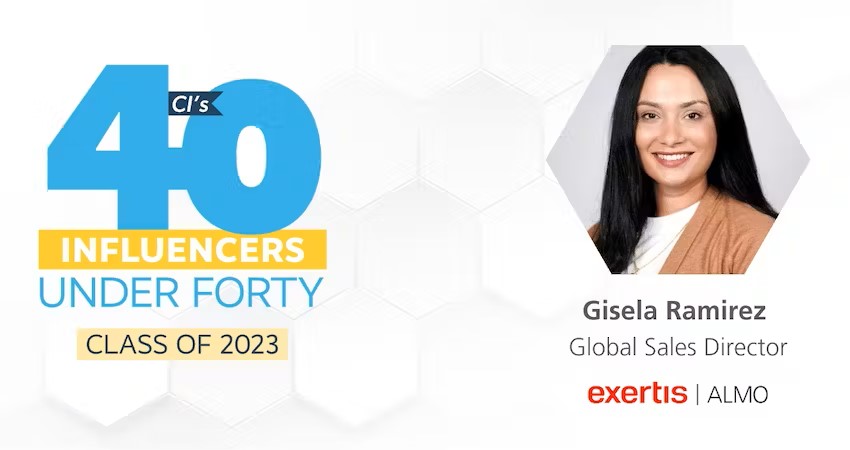 One of Four Exertis Almo Female AV Professionals Recently Selected for Industry Leadership Awards; All on Fall E4 AV Tour in NY Metro and Phoenix
Philadelphia, PA — September 11, 2023 — Exertis Almo, the largest and most specialized value-added North American AV distributor, today announced Gisela Ramirez, Director of Global Sales for Latin America and the Caribbean, has been named one of Commercial Integrator's 2023 class of 40 Influencers Under 40.
Ramirez is one of four Exertis Almo female AV pros who have earned distinguished industry honors in the last year. All four will be traveling this fall to meet with integrators at the Exertis Almo E4 Experience, heading to New Jersey on September 20 and Phoenix on October18.
Known as Commercial Integrator's single most popular editorial offering of the year, 40 Influencers Under 40 allows the industry community to speak for itself, selecting the most dazzling women and men in the business with a 2023 list that is gender equal. In fact, according to Commercial Integrator, the list reflects that women, although still highly underrepresented in commercial AV, punch well above their weight in terms of industry impact.
"Commercial Integrator's 40 Influencers Under 40 is an indispensable annual tradition because it allows us to celebrate women and men whose incredible accomplishments belie their years," said Dan Ferrisi, group editor, Commercial and Security for Emerald. "Every single person on this year's list is a rock star and I have no doubt that each one of them will continue to elevate our industry in remarkable ways for many decades to come."
"I am beyond thrilled to have been selected as one of the 40-Under-40 Class of 2023," said Gisela Ramirez, director of global sales for Exertis Almo. "Looking back at my journey, I started by supporting a sales team and now, 11 years later, I'm leading an exceptional team of talented professionals. This industry has captured my heart and I'm so passionate about it. I couldn't have achieved any of this without the support and guidance of colleagues, mentors and friends."
With more than a decade of AV experience under her belt, Ramirez has built, motivated and successfully leads a diverse sales team that spans multiple countries and cultures. Fluent in English, Spanish and Portuguese, Ramirez has been able to work with integrators in many regions to ensure success.
According to Dan Smith, EVP/COO Exertis Almo, "Gisela is an effective modern leader in this industry with the keen ability to manage a plethora of priorities for customers and her team — all in a calm, confident and charismatic manner. She's all in when it comes to delivering excellence and pushing the boundaries of what's achievable in commercial AV." He added, "Exertis Almo believes in the power of having strong female leaders in AV both now and for many future generations to come."
In addition to Ramirez, in the last year, Exertis Almo female leaders have received the following recognition for leadership excellence:
Melody Craigmyle, Vice President of Marketing and Communications, Almo Corporation Dealerscope 2022 Most Powerful Women in Consumer Technology
Karen Castaño, Director of National Business, Exertis Almo Systems Contractor News The Nine 2023 Cohort
Kim Lonas, Global Diversity and Inclusion Program Lead, Exertis Dealerscope 2023 DEI Award Winner
All of these leaders will be in attendance this fall on the E4 Experience, coming to New Jersey on September 20 and Phoenix on October 18.