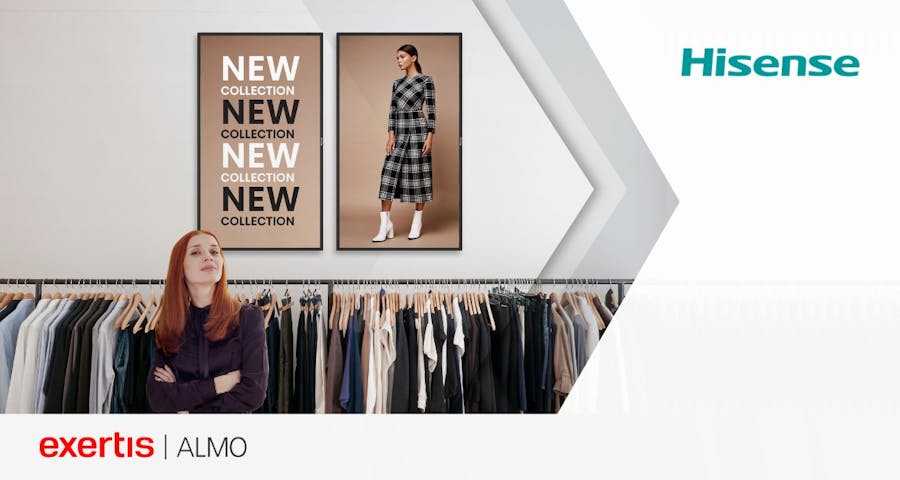 Hisense Joins Exertis Almo Spring 2024 E4 Experience in Washington, D.C. and Chicago
Philadelphia, PA — November 03, 2023 — To provide its resellers and integrators an opportunity to differentiate with a competitive range of commercial digital signage displays, Exertis Almo, the largest and most specialized value-added North American AV distributor, has entered an exclusive US distribution partnership with Hisense, one of the leading, most trusted electronics and appliance brands in the world. As part of the agreement, the full line of Hisense's affordable 32- to 100-inch digital signage displays, touchscreens, and direct-view LED all-in-one 136- and 163-inch models are now available only through Exertis Almo.
Additionally, Hisense has joined the Spring 2024 Exertis Almo E4 Experience, coming to Washington, D.C. in March and Chicago in April. The E4 Experience is well-known throughout the AV industry as the most valuable one-day education/training and product showcase. It features a "crown jewel" showroom packed with the newest AV gear in use – making it a perfect place for integrators and resellers to bring their end users — as well as a stacked lineup of enriching AVIXA CTS-certified business, technical and trend sessions.
According to Exertis Almo Director of Business Development Brian Rhatigan, "Hisense was recently named a top global television manufacturer. As the official sponsor of the NBA, the Hisense brand will continue to be elevated in the US market with the introduction of commercial-grade displays, touchscreens and direct-view LEDs." He continued, "We expect the demand for Hisense products in commercial projects to steadily increase in the coming months."
Rhatigan added, "The addition of Hisense gives our resellers and integrators more flexibility when specifying for commercial display projects. Combined with a wide range integrator-focused programs, they definitely have an edge in a highly competitive market."
Hisense Head of Sales, B2B Americas Ryan Peka said, "Exertis Almo is a world-class AV distributor with a strong sales organization that provides top support for our resellers, integrators and end users. We enjoyed being part of the productive E4 Experience this fall in New Jersey and Phoenix and look forward to continuing this momentum in the spring."

The following notable Hisense Digital Signage Displays are now available through Exertis Almo and come with a three-year advanced replacement warranty:
100-inch  and 55-Inch 4K UHD Digital Signage Display (100BM66D/55BM66AE): Perfectly fit for public transport and retail locations, their slim body design allows for blending into any surrounding while the on-screen messaging stands out. The vivid and vibrant colors immerse viewers while effectively showcasing product information. All this with the flexibility and reliability that are required for 24/7 broadcasting in an elegant, vibrant and reliable way.
75-inch 4K UHD Digital Signage Display (75B4E30T): Ideal for retail and business environments, this display is the perfect backbone of a digital broadcasting platform in supermarkets, restaurants, stadiums, shopping malls and office buildings. A combination of seamless design and enhanced 500 nits brightness ensures digital content vividly stands out from the crowd.
---
About the E4 Experience
The E4 Experience brings together top educators, manufacturing partners, AVIXA CTS Renewal Unit certified training, technology firsts and endless networking opportunities. Attendees can expect to learn the latest business and industry trends necessary to stay productive and gain valuable skills that can immediately be implemented. E4 stands for the four main pillars of the experience: Explore, Engage, Educate, Expo. To learn more, go to www.e4experience.com.  
About Exertis Almo
Exertis Almo is the largest value-added North American Professional AV distributor offering its reseller partners the most expansive range of products, managed services, technical support and training to drive business growth and generate profits. Formed in 2022 following Exertis' acquisition of Almo Corporation, Exertis Almo harnesses the combined sales, service, marketing and subject matter expertise of Almo Professional A/V and Exertis Pro AV to deliver customized business development strategies, programs and educational events that enable partners to thrive. With a highly-accomplished joint leadership team, more than 300 employees, 12 distribution facilities, and 2.7 million square feet of warehousing space, Exertis Almo provides the specialization and resources its partners need while maintaining the personal distribution approach they expect. For more information about Exertis Almo, go to www.exertisalmo.com.
About Hisense
Founded in 1969 as a manufacturer of radios in Qingdao, China, Hisense has grown to become one of the leading, most trusted consumer electronic and appliance brands in the world, with offices and factories in every corner of the globe. Hisense is committed to providing cutting-edge, people-first solutions that improve quality of life, giving access to the innovations that create modern day conveniences. In 2023, Hisense became the official sponsor of the National Basketball Association (NBA) and last year, the company was named the number-two television manufacturer worldwide. Other company highlights include being named a sponsor for two FIFA World Cup games. For more information, go to www.hisense.com.