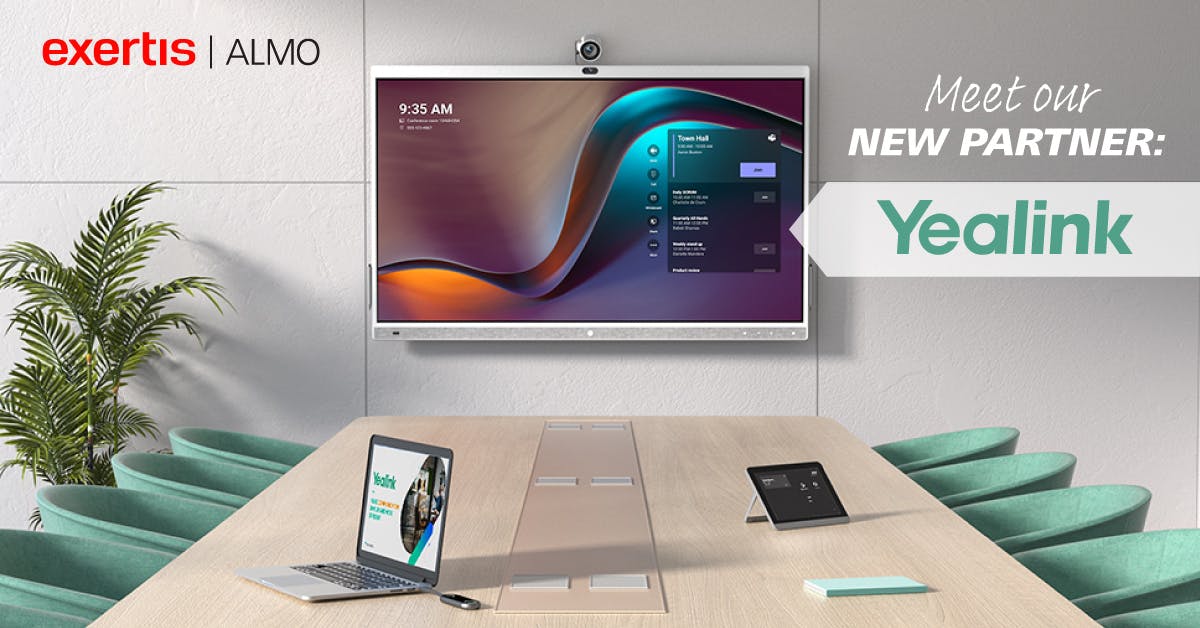 Yealink Joins Fall 2023 Exertis Almo E4 Experience Heading to NY in September and Phoenix in October
Philadelphia, PA — Following a soft launch last month at AVIXA's InfoComm 2023, Exertis Almo, the largest and most specialized value-added North American distributor and Yealink, global-leading provider of Unified Communication and Collaboration Solutions have officially announced a distribution partnership, thereby giving resellers and integrators greater access to Yealink's full line of communication and collaboration tools. Some of those tools include the new Yealink Meeting Board all-in-one interactive whiteboard, Intelligent audio and video solutions for large rooms, and the MVC S90 Microsoft Teams Rooms System for extra-large rooms.
Yealink has also joined the fall 2023 leg of the E4 Experience, stopping in Teaneck, NJ on September 20 and Phoenix, AZ on October 18. Billed as the most recognized and valuable one-day education/training and product showcase, the E4 Experience features a "crown jewel" showroom packed with the newest AV gear in use — making it a perfect place for integrators to bring their end users — along with a stacked lineup of enriching AVIXA CTS-certified business, technical and trend sessions.
"Collaboration, Conferencing and Communications are an essential part of every professional's day in some capacity," explained Vice President of Business Development for Exertis Almo Rob Ziv. "If those tools aren't working correctly, they absolutely have a detrimental effect on business productivity. Our distribution partnership with Yealink allows integrators to ensure their customers always have the communication and collaboration equipment they need to stay efficient and connected. We look forward to growing our partnership with Yealink and providing resellers and integrators with the Yealink line of tools for their meeting room projects."
"As a specialist distributor, Exertis Almo has extensive knowledge of AV products and offers top-quality professional service to Pro AV resellers," said Vice President of Yealink global channel Rowena Fan. "Exertis Almo's highly-automated warehousing capacity, white glove shipping service, and systems integration specialists bring our customers the highest level of specialization available." She added, "We look forward to joining the E4 Experience tour this fall and spending quality time with integrators and resellers in the New York and Phoenix areas."
Yealink Products Available Through Exertis Almo
Some of the major Yealink offerings available through Exertis Almo include:
Meeting Board all-in-one interactive whiteboard: Consists of a 4K camera, crystal-clear speaker, full-duplex microphones and 65- or 86-inch collaboration whiteboard to provide an immersive meeting experience and allow collaboration anytime and anywhere.
Intelligent Audio and Video Solutions for Large Rooms: Designed for an engaged and flexible Microsoft Team Rooms Experience
MVC S90 Microsoft Teams Rooms System: Created for extra-large rooms, the Yealink MVC S90 is a bundle video solution with a multi-camera system, MCore mini-PC, MTouch Plus touch panel, AVHub, and Room Sensor for a premium Teams meeting experience to interact, connect and collaborate with internal and external users seamlessly and intelligently.
About the E4 Experience
Named a 2023 Systems Contractor News Stellar Service Award winner and a 2023 Commercial Integrator BEST winner, the E4 Experience brings together top educators, manufacturing partners, AVIXA CTS Renewal Unit certified training, technology firsts and endless networking opportunities. Attendees can expect to learn the latest business and industry trends necessary to stay productive and gain valuable skills that can immediately be implemented. For more information or to register, go to www.e4experience.com.
About Exertis Almo
Exertis Almo is the largest value-added North American Professional AV distributor offering its reseller partners the most expansive range of products, managed services, technical support and training to drive business growth and generate profits. Formed in 2022 following Exertis' acquisition of Almo Corporation, Exertis Almo harnesses the combined sales, service, marketing and subject matter expertise of Almo Professional A/V and Exertis Pro AV to deliver customized business development strategies, programs and educational events that enable partners to thrive. With a highly-accomplished joint leadership team, more than 300 employees, 12 distribution facilities, and 2.7 million square feet of warehousing space, Exertis Almo provides the specialization and resources its partners need while maintaining the personal distribution approach they expect. For more information about Exertis Almo, go to www.exertisalmo.com.
About Yealink
Yealink (Stock Code: 300628) is a global-leading provider of Unified Communication & Collaboration Solutions specialized in video conferencing, voice communications, and collaboration, dedicated to helping every person and organization embrace the power of "Easy Collaboration, High Productivity".
With best-in-class quality, innovative technology, and user-friendly experiences, Yealink is one of the best providers in more than 140 countries and regions, ranks No.1 in the global market share of IP Phone, and is the Top 5 leader in the video conferencing market (Frost & Sullivan, 2021). For more information, go to www.yealink.com.