CEDAR RAPIDS, IA, Nov. 13, 2020 – The NSCA Education Foundation is excited to announce its first-ever virtual fundraiser to celebrate its 20th anniversary and raise funds to support ongoing industry initiatives.
After cancelling three planned fundraising events in 2020, "Cheers to 20 Years" is a completely online experience being held on Dec. 3, 2020, from 3:30pm to 5:30pm CST.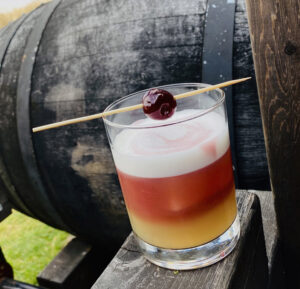 Led by emcee and host Tim Albright, founder of AVNation, "Cheers to 20 Years" will kick off with a virtual happy hour where attendees will be able to make a signature cocktail designed exclusively for the NSCA Education Foundation by Iowa-based Cedar Ridge Winery & Distillery.
Throughout the evening, short video clips will highlight the stories of those impacted by Ignite and PASS K-12 initiatives.
Attendees will also enjoy short performances by industry bands and "celebrities."
Live and silent auctions will also help the NSCA Education Foundation reach its $54,000 fundraising goal for the event. Items up for auction include:
Atlas Atmosphere solution
AXIS C1410 Network Mini Speaker
Bose S1 Pro System
Cedar Ridge Winery & Distillery Bourbon Basket
Harman JBL EON One Compact PA
Legrand Vaddio HuddleSHOT
QSC Powered Speaker
Belden, Biamp, Cleerline, FSR, Liberty AV, Sharp/NEC, Shure, Solutions360, and Xilica are also supporting "Cheers to 20 Years" through financial donations.
"The pandemic may have changed our plans for the NSCA Education Foundation this year," says Director Chuck Wilson, "but the organization still works every day to support important initiatives like PASS K-12 and Ignite. 'Cheers to 20 Years' will help us raise funds so we can ensure that the Foundation's work continues."
All industry professionals and their guests are invited to attend "Cheers to 20 Years" to enjoy the entertainment, learn more about the NSCA Education Foundation, bid on auction items, and make tax-deductible donations (thanks to the CARES Act) through the online portal. RSVP at nsca.home.qtego.net. For more information about the event, to donate, or to register, contact Events Manager Savannah Washburn at swashburn@nsca.org.
About NSCA Education Foundation
The mission of the NSCA Education Foundation is to advance educational opportunities by providing scholarships and awards to assist existing professionals and those pursuing careers within the low-voltage electronic systems integration industry. The foundation is committed to the growth of the industry by providing access to the best education and latest techniques available. The NSCA Education Foundation, a 501(c)(3) charitable organization, promotes and engages current and future electronic systems integrators in educational experiences to enhance the growth, professionalism and business skills needed in the electronic systems industry. For more information, visit www.nsca.org/nsca-education-foundation.
###