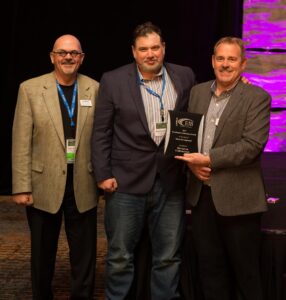 Over the next few months, we'll take an inside look at how the NSCA 2017 Excellence in Business award winners have adapted to the constantly changing industry. The story of Mechdyne is fourth on the list. For the restructuring of its application and hiring processes, Mechdyne was named an NSCA 2017 Excellence in Business award winner in the Talent Development category.
Today, Mechdyne relies on its company culture and core values to drive every business decision – but the company admits that it hasn't always been this way.
After merging with another organization in 2006, it became apparent that the newly acquired company had a different culture and set of core values. To nurture a positive and productive culture to help its new teammates succeed, Mechdyne needed to implement changes. These changes then became the foundation for a new hiring process.
Checking for "Fit"
When a candidate applies for a position, he or she undergoes a rigorous process to ensure they have the right attitude, technical training, and client focus to be successful within Mechdyne's culture. Each candidate takes four different assessments, as well as a personality test, to identify how each individual will culturally and technically "fit" within Mechdyne.
"We believe that 'culture eats strategy for breakfast,' and that is reflected in our desire to hire for fit and train for skill," says Sue Goodman, director of HR for Mechdyne.
Reducing Hiring Timeframes
To ensure that the HR department efficiently and accurately tracks potential candidates and their progress throughout the hiring process, Mechdyne's HR department has made radical improvements to hiring and recruitment:
Utilizing a new hiring applicant tracking system
Conducting weekly recruitment meetings
Using data from velocity reports
As a result of these changes, Mechdyne's hiring timeframe is now 49 days (down from 96 days five years ago).
Emphasizing Professional Development
Once a new hire joins the Mechdyne team, he or she is encouraged to seek training and continuing education opportunities.
One way to achieve this is through Mechdyne University, a corporate training program set up for teammates to attain additional training, education, and experience that helps them achieve their goals while also advancing the company. A variety of pre-approved continuing education units are already available through Mechdyne University; if none of them match what the employee is looking for, a request can be made for additional courses to be added that are relevant to the company's business and technical objectives.
Putting Employees in Charge
Mechdyne teammates are now expected to manage their own career paths; each department has a career ladder that lays out requirements for advancement. New employees are paired with mentors within their departments to guide them up their career ladder. How quickly each teammate chooses to complete the ladder determines how quickly they are eligible for promotion. Different tracks within each career ladder allow employees to truly define their own Mechdyne careers.
Celebrating Success
These changes have resulted in a successful company that just celebrated its 20th anniversary, works with clients around the world, and employs more than 200 happy teammates.
By striving each day to ensure that every new employee is a good cultural fit, receives ongoing education, and is in charge of his or her own career path, Mechdyne nurtures a positive and productive culture that helps teammates succeed.
Check back soon, as we continue to reveal how the 2017 NSCA Excellence in Business award winners made business changes to adapt to the constantly changing industry. You'll also read stories from: