For its dedication to supporting proactive customer support through hiring changes that promote IT skills, Radiant Technology was named a 2023 Excellence in Business award winner in the Talent Development category.
According to Radiant Technology, it was both need and inspiration that spurred the company's hiring shift a few years ago.
Until then, traditional methodology within the company had dictated that each system be designed and built to meet the unique requirements of clients and their end-users. Radiant's technical staff were available to assist when a problem was reported, but this was purely a responsive reaction.
But, in 2018, when a client requested a solution to support digital signage uptime in their mission-critical environment, Radiant Technology stumbled across an opportunity.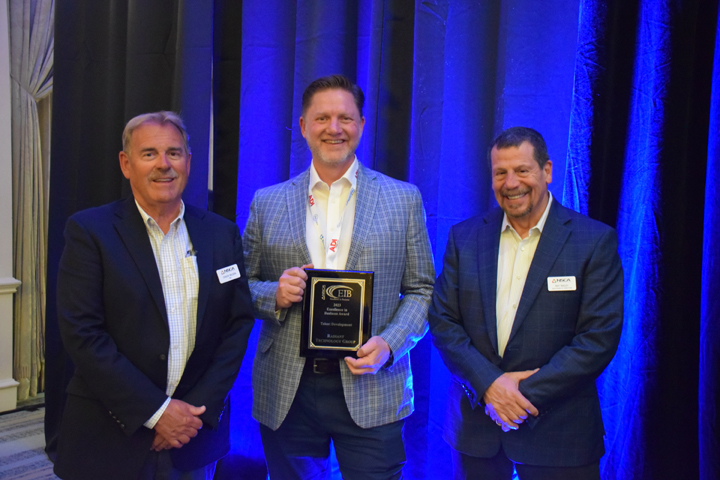 Fortunately, one of Radiant's newest team members had IT skills and was able to develop a comprehensive monitoring solution and automate issue identification and reporting using an IT development approach. He created an app and loaded it onto the client's digital signage devices. When a problem arose, the app sent him an email. Through remote access software, he could login and solve those problems for the client remotely. This allowed Radiant to resolve issues to maximize system uptime while reducing the need for the client to intervene.
This solution gave the client exactly what they were looking for, but it also did something else: It made Radiant re-evaluate the skills that its support engineers needed, including network management, data architecture, and software scripting.
"This project made us realize the bigger opportunity to change from being responsive to proactive," says Greg Myers, president and founder of Radiant Technology. "We immediately recognized the potential with what was happening. It was a watershed moment for us."
But being proactive instead of reactive required a mindset change, and initial training on these new concepts didn't go over well with every staff member. Responses ranged from mild acceptance to willful indifference, and the majority of the team continued to do things the way they always had always been done.
In this case, Myers knew, innovation would have to come from an outside source. As a result, Radiant Technology created a plan to team members with IT skills and backgrounds who could shift their knowledge to support traditional AV applications.
"To build enterprise ecosystems, you need people who understand the complexity of enterprise networks, can navigate the dos and don'ts of network security, and can build alignment with governance," explains Myers. "You need people who can create programs and scripts in several platforms—and those skills were needed in every part of our organization."
Radiant started by hiring software developers to build apps that create productivity and efficiency. The next step was to bring on graphic designers and web developers to develop signage content. The final piece of the puzzle was to hire full-stack developers.
This team forms Radiant's new Development & Innovation team, which combines developers with creative resources. Its members are technically minded and intrinsically motivated to solve problems for clients. "They have made such an immense difference in the way we attack business today," says Myers.
By tapping into this team's expertise, Radiant has been able to develop and launch new products like:
Radiant Pulse to proactively manage digital signage ecosystems that notify Radiant when an outage or failure occurs
Radiant Engage to streamline scheduling, support, and signage into one sleek device that integrates seamlessly into collaboration ecosystems
Radiant Digital Signage Controller to manage content
These solutions solve key challenges for clients when out-of-the-box options don't exist or aren't practical. They are completely customized to specific needs and would not have been possible without this shift in hiring practices.
Bringing in new talent enabled Radiant Technology to adapt to changing client expectations and quickly pivot to expand services as needs arise. It also gives the company options—it no longer has to rely on vendors alone to develop products and software to solve problems. Its in-house team can now develop custom applications to achieve client outcomes.
The HR team focuses on hiring employees that embody Radiant's core values:
Quality first
Making a positive impact,
Continuous improvement
Setting clear expectations
Owning it
"Across our company, the Development & Innovation team has the least amount of turnover because they're so satisfied with the work they do," says Myers. "They're excited every day when they come to work, and they get to be creative and help our clients."