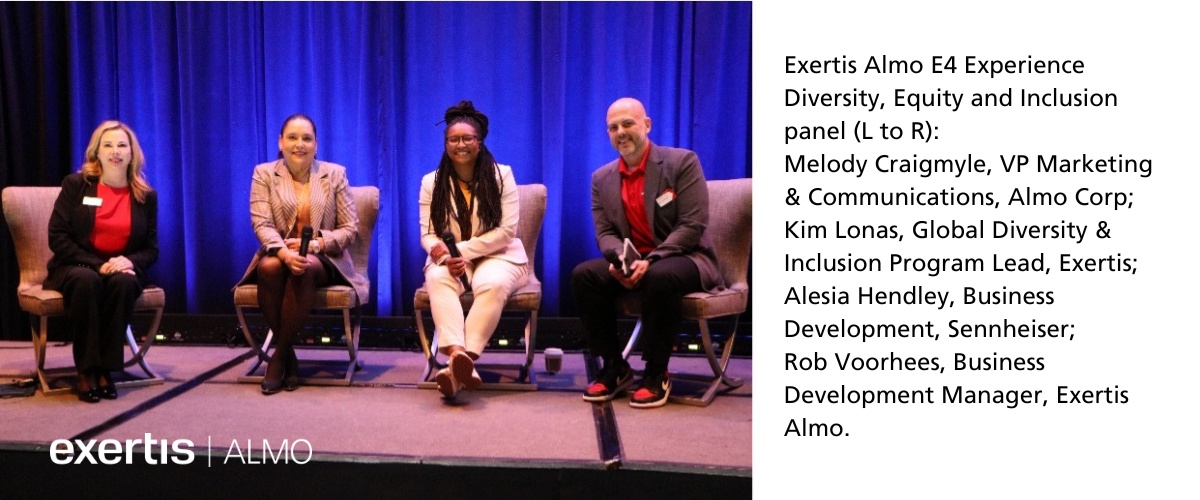 E4 Experience is Heading to New Jersey on September 20 and Phoenix on October 18
Philadelphia, PA — September 18, 2023 — Exertis Almo, the largest and most specialized value-added North American AV distributor, today announced its popular Diversity, Equity and Inclusion (DEI) panel,
taking place at the award-winning E4 Experience, will focus on the importance of bringing AV technology into the DEI discussion. The E4 Experience is heading to New Jersey on September 20 and – for the first time — Phoenix on October18.
Honored with a 2023, SCN Stellar Service Award and named a 2023 Commercial Integrator BEST winner, the E4 Experience is well-known throughout the AV industry as the most valuable one-day education/training and product showcase. It features a "crown jewel" showroom packed with the newest AV gear in use — making it a perfect place for integrators and resellers to bring their end users — along with a stacked lineup of enriching AVIXA CTS-certified business, technical and trend sessions.
"We are looking forward to more lively, interactive discussions about DEI at the fall E4 Experiences – it's interesting to see the differences in the types of questions we receive based on the regions we visit," said Vice President of Marketing and Communications for Almo Corporation, Melody Craigmyle. "There are so many ways for integrators to take action in support of DEI programs. But one of the greatest opportunities is with AV technology. From simple lighting to ADA-compliant listening devices, integrators have the tools their customers need to help level the playing field and allow employees to do and be their best, whether it's in an office, school, church, hospital, quick-serve restaurant or anywhere – and everywhere – technology is used."
Craigmyle added that integrators have the unique ability to lead this effort and play a key role in enabling their customers to use AV products that not only create experiences, but also design a work environment that is diverse, equitable and inclusive.
Read a transcript from the DEI Panel at the E4 Experience earlier this year in Dallas.
According to Business Development Manager for Exertis Almo, Rob Voorhees, "As a parent of a teenager on the Autism spectrum, I have seen firsthand how meeting equity and technology allow a neurodivergent person to truly flourish. Rather than implementing a "one size fits all" model, companies should be examining what technological tools a person might need in order to put their best effort forward." He continued, "Something as trivial as a USB microphone or noise-cancelling headphones could prove the difference between an introverted employee or a top performer. It's amazing to witness the talents of those who feel comfortable in their surroundings."
Additional points of interest during the panel discussion include the financial and cultural consequences of ignoring DEI, some of the initiatives at Exertis including company surveys and a DEI annual report, neurodiversity and the benefits of technology, DEI at the product development level, meeting equity, and ways for integrators to bring the topic of DEI into a sale.
The fall E4 DEI panel consists of the following professionals: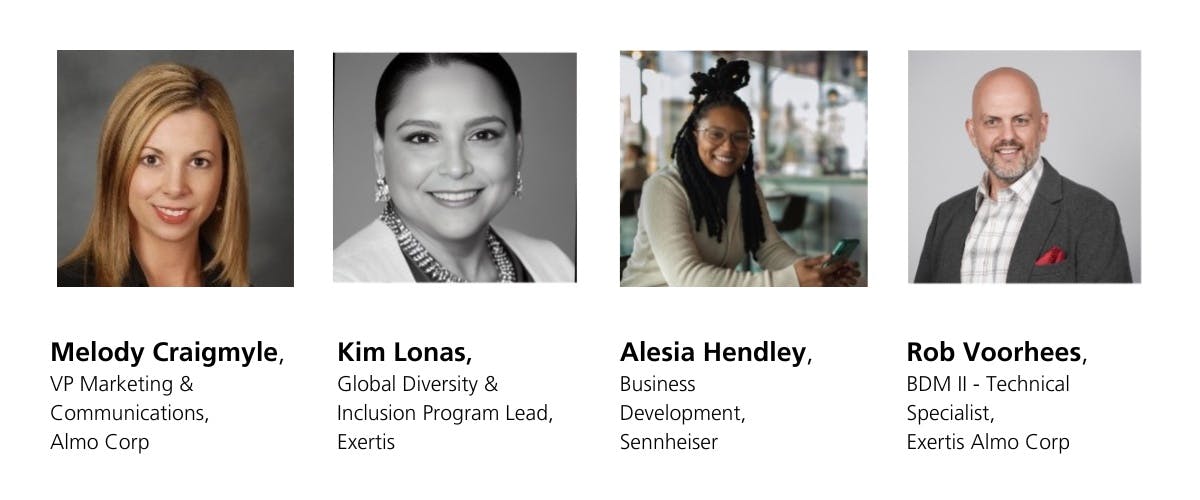 Moderator: Melody Craigmyle, Vice President of Marketing and Communications for Almo Corporation, creator of the E4 Experience brand, and recipient of Dealerscope's 2022 Powerful Women in Technology
Kim Lonas, Global Diversity and Inclusion Program Lead for Exertis and member of AVIXA's Diversity Council. Kim was integral in the creation of the new AVIXA Mosaic Scholarship, which is awarded to individuals with diverse backgrounds whose thinking will influence the future of the global AV industry. Kim is also a Dealerscope 2023 DEI Award Winner.
Alesia Hendley, Business Development at Sennheiser, Multimedia Journalist, social media influencer and a prominent, energetic, well-known voice in AV.
Rob Voorhees, Business Development Manager for Exertis Almo and member of AVIXA's Diversity Council
---
About the E4 Experience
The E4 Experience brings together top educators, manufacturing partners, AVIXA CTS Renewal Unit certified training, technology firsts and endless networking opportunities. Attendees can expect to learn the latest business and industry trends necessary to stay productive and gain valuable skills that can immediately be implemented. E4 stands for the four main pillars of the experience: Explore, Engage, Educate, Expo.
About Exertis Almo
Exertis Almo is the largest value-added North American Professional AV distributor offering its reseller partners the most expansive range of products, managed services, technical support and training to drive business growth and generate profits. Formed in 2022 following Exertis' acquisition of Almo Corporation, Exertis Almo harnesses the combined sales, service, marketing and subject matter expertise of Almo Professional A/V and Exertis Pro AV to deliver customized business development strategies, programs and educational events that enable partners to thrive. With a highly-accomplished joint leadership team, more than 300 employees, 12 distribution facilities, and 2.7 million square feet of warehousing space, Exertis Almo provides the specialization and resources its partners need while maintaining the personal distribution approach they expect. For more information about Exertis Almo, go to www.exertisalmo.com.