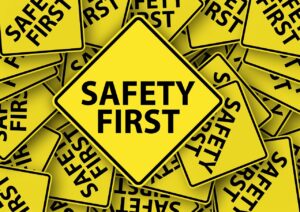 Workplace and jobsite accidents can typically be blamed on two things: either the lack of appropriate safety protocol or the inability to create and maintain a safe culture.
A "zero-claim mentality" is what integrators should strive for (meaning no accidents). To establish this type of environment, the first step involves creating a holistic strategy that empowers everyone to manage progress and track results.
Zero Trends: Health as a Serious Economic Strategy is a book by Dee Edington that we sometimes reference when it comes to safety best practices. Edington claims that, by implementing a culture of wellness, organizations can prevent a "sick population from becoming sicker."
Although his approach is applied to the healthcare industry in the book, we think this method also helps improve workplace and jobsite safety.
In the book are five pillars that encourage organizational change when implemented effectively and simultaneously. These pillars can be applied in the world of safety, too:
Establish goals and objectives by developing a safety mission statement and focus areas
Align your workplace with one common safety vision
Create winners and "self-leaders" who know who they are, what they can do, and where they are going
Reward, recognize, and sustain employee progress toward goals
Track outcomes, which will help drive your strategy
When these five pillars are applied to safety, we've seen the following things happen:
| | |
| --- | --- |
| Before the Pillars of Safety | After the Pillars of Safety |
|   Ad hoc safety program |   Structured safety program |
|   Lacking in safety synergies |   "Safety first" mindset |
|   Undefined safety culture |   Measured safety culture + awareness campaigns |
|   Lost-time accidents |   Reduced lost-time accidents |
|   Workers' compensation claims |   Reduced workers' compensation claims |
All too often, integrators adopt a safety program and don't give it the attention it deserves – and then wonder later why it doesn't work. A true commitment to safety requires a shared effort and approach that reaches beyond the responsibilities of a safety manager or risk manager.
As an NSCA Business Accelerator, TrueNorth helps integrators improve processes to achieve safety results. Our approach encourages people to leave their jobs in the same – or better – condition than when they arrived. Want to learn more about creating an effective safety culture? Get in touch! –TrueNorth Risk Management
This publication has been prepared by TrueNorth Companies, L.C.'s Risk Management division and is intended for informational purposes only. Transmission of this publication is not intended to create, and receipt does not constitute, a client relationship with TrueNorth Companies, L.C. This publication does not constitute any type of representation or warranty. This publication is not a contract and does not amend, modify or change any insurance policy you may have with an insurance carrier. © 2019 TrueNorth Companies, L.C. All rights reserved.